I'm not usually one for making New Year's Resolutions, BUT I've decided to go ahead and do so.
Even though the year is almost half way through.
Start waking up more than one hour before I have to be at work.
I need to start allowing myself for time. Half the time that I come into work, I look like street trash. I have don messy top knots, and my outfits are strewn together last minute. I don't get to take the boys on a decent walk and I'm rushing and sometimes a minute or two behind. This is the most important change I need to make.
I need to focus on my work more.
These two go hand in hand basically as being more awake in the morning will help with this. I get my work done, but I want to go above and beyond and accomplish more in the day, especially with all of my new duties.
Go to the gym.
I got this fucking membership that I pay for each month, and I was doing quite well for a bit there and lost a little over a pound in one week. I haven't been in (I am ashamed to say) probably a month or more. Thus, I will eat healthier. I mean I gotta look good in this bathing suit!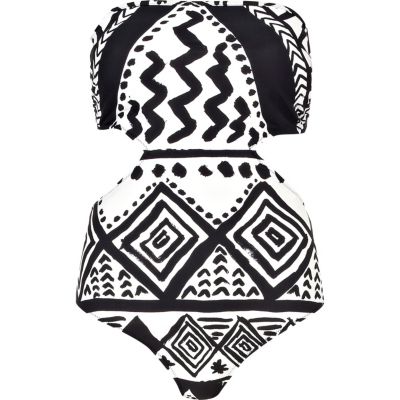 Black Aztec Monokini Swimsuit - River Island
Start eating healthier and taking vitamins.
I don't eat terribly, and I don't eat meat. However, this causes for more cheese substitutes, and candy isn't a meat, right? I want to start eating more healthy components and incorporating vitamins into my diet. Perhaps I will be vegan one day when I can figure out how to make vegan cheese!
Save!
This has already begun, and I want to keep it up. I need to start putting back more of my funds now that things have calmed down for me financially. Not only do I need a savings, but I need to pay things off and I would like to have a vacation soon.
That is all I can think of right now.
Let's call this to be continued...